North Lake Tahoe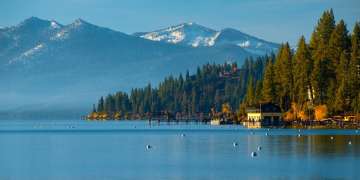 California's North Shore includes the area from the edge of Tahoe City to the Nevada stateline along Highway 28. In general, this area gets less snow, is more directly exposed to the wind, and is less heavily forested then the West Shore. Excellent cross-country skiing can be found at Tahoe Cross-Country Ski Area between Tahoe City and Carnelian Bay, with 65 kilometers of groomed ski trails. In the summer, the ski trails become prime mountain biking and walking terrain, with an extensive network of trails leading through wildflower covered meadows to views of the lake.
Lake Forest, is tucked off the main highway, near Tahoe City and has ball fields, a boat launching facility, and several lakeside parks.
In Carnelian Bay, find Patton Beach, an excellent spot to kayak and paddleboard, and Garwoods, a popular on the water restaurant and site of the annual Polar Bear Swim each March.
Kings Beach, is home to a mile long sandy beach, active art community, retail shops and lakeside convention center. It is a popular spot for hang gliders, volleyballers, and wind surfers. It's also where the Ironman Lake Tahoe athletes enter the water for their swim, before jumping on a bike and riding to Tahoe City, Truckee and back to Kings Beach. Twice. At the Nevada State line, the Soule Domain, a popular romantic restaurant in a log cabin, is located next to a small cluster of casinos. Bucks Beach is a hidden gem just at the stateline, where kayakers and swimmers enjoy the humongous granite boulders just off shore.

New North Lake Tahoe Homes for Sale

Sorry we are experiencing system issues. Please try again.